William T. Parry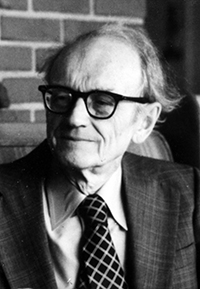 Born:
1908
Death:
1988
William T. Parry was born in Nutley, New Jersey in 1908. He received his B.A. from Columbia College, New York City (1928), and both his M.A. and Ph.D from Harvard University. From 1932-1933, Parry was awarded the Sheldon Traveling Fellowship from Harvard and spent a year studying at the University of Vienna and Cambridge University.
In 1946, after serving in the U.S. Army, William T. Parry was appointed as a lecturer in the Department of Philosophy at the University at Buffalo. In 1953, he was called before the House Un-American Activities Committee (HUAC) to testify about his membership in the Communist Party, which he had joined in 1933. Though he was willing to discuss his own history with the Communist Party, he was unwilling to give them names of other Communist Party members. As a result, the University at Buffalo stripped him of his tenure and placed him on one-year contracts for the next three years. (Heins, 193)
William T. Parry would continue teaching at the University at Buffalo and would serve as the chair of the Department of Philosophy 1968-1971. He retired in 1979.
Heins, Marjorie. 2013. Priests of Our Democracy: the Supreme Court, Academic Freedom and the Anti-Communist Purge. New York and London: New York University Press.
Affiliation(s):
Philosophy
Record Group(s):
22
---
Biographical File Contains: