Elwin (Ed) H. Powell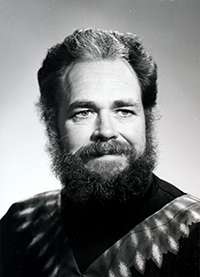 Born:
1925
Death:
2001
Elwin (Ed) H. Powell (1925-2001), was a professor of sociology at the University at Buffalo from 1958-2001. As a political activist and radical, his presence was influential on a local and national level.
Powell was born in Los Angeles, California, but soon after moved to Plainview, Texas where he spent his formative years. After graduating high school, he served in the United States Navy during World War II. At the conclusion of the war, he returned home to earn a bachelor's degree in science from the University of Texas. He spent two years teaching high school biology in Houston before he decided to return to school and pursue a doctorate in sociology. In 1956, he earned his Ph.D. from Tulane University in New Orleans, Louisiana and then went on to complete two years of post-doctoral work at the London School of Economics and Political Science.
Ed Powell was hired by the University at Buffalo in 1958. While at UB, Powell taught undergraduate and graduate level sociology courses concerned with communication, religion, violence, city living, and politics. He made himself accessible to students, always available for discussions outside of class. Although officially retired in 1996, he continued to teach part-time until his death in 2001.
Powell participated in and founded a number of activist organizations that promoted peace and civil rights. From 1960-1961, he was head of SANE (The Committee for a Sane Nuclear Policy). Later, he co-founded Research for Justice, a non-profit organization that advocated for victims of police and government injustice. Throughout his career, Powell was very involved with local and national politics, attending protest rallies or marches: demonstrating for nuclear disarmament, free speech and access to information.
Ed Powell made headlines in the early 1980's when he initiated a fervent campaign protesting the University at Buffalo's administration's decision to convert the Squire Hall student union (formerly known as the Norton Union), into a dental clinic. In February of 1982, he was arrested by Buffalo police during a peaceful sit-in, found guilty of third-degree trespass and served a 12 day sentence in the Wende Correctional Facility.
Affiliation(s):
Sociology
Record Group(s):
22
---
Biographical File Contains: