Diane Christian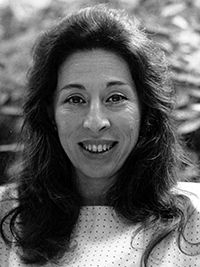 Poet and documentary filmmaker, Diane Christian, is a well-known for her work in both the Department of English and the Center for Studies in American Culture. Coming from a background in mythological and religious literature as well as the the works of William Blake, Christian started her teaching career while a member of the Sisters of Saint Joseph of Rochester, a Roman Catholic religious order in Rochester, NY. Joining the faculty of UB in 1970, Christian began teaching in the Department of English. One of her courses on the Bible as literature is still one of the most popular classes in the department.
She has both produced and written about much about documentary filmmaking. Pulling on resources from her past, Christian directed and appeared in the documentary, Out of Order, (1984), a National Endowment for the Humanities-funded documentary about former nuns. Chrisian is also the co-author -- with her husband, UB professor of American Studies, Bruce Jackson -- of Death Row (1980), a book about inmates in Texas awaiting execution, and Get the Money and Shoot: the DRI Guide to Funding Documentary Films (1987).
As co-directors of the Center for Studies in American Culture, Christian and Jackson host the Buffalo Film Seminars, a film series that invites the public to join in on "conversations about great films."
A poet, Christian has authored a few collected works. Her first book, WIDE-ONS, (1981) is described as "forty-seven 'lusty, loving' poems by a former nun."¹. Poet and SUNY Distinguished Professor Emeritus Robert Creeley wrote WIDE-ONS' introduction, "For A Big Sister":
Experience not only teaches--
it moves you on. Hence
the wry fey deftness
of these songs… (11)
Her more recent work of essays and poetry, Blood Sacrifice: reflections on war and murder(2004), explores Christians' views on "the ethics and rhetoric of George W. Bush's war in Iraq."²
Affiliation(s):
English, Center for Studies in American Culture
Record Group(s):
16
---
Biographical File Contains: