Medical School Library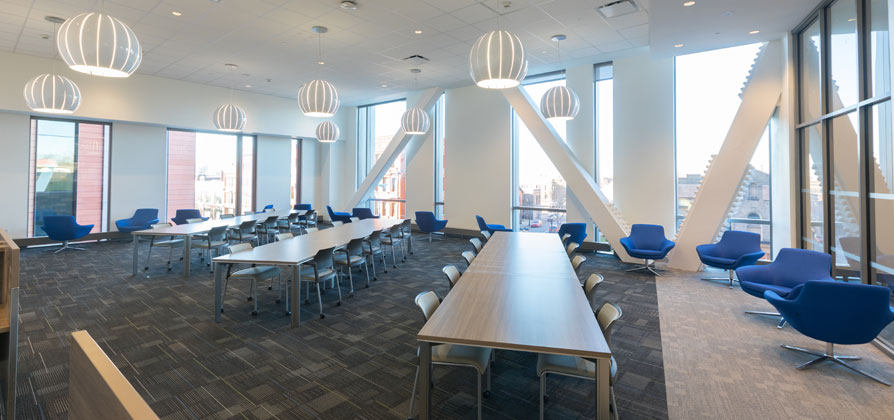 The library is located inside of the Jacobs School of Medicine and Biomedical Sciences building, on the second floor across from the M&T Bank Auditorium.
Only people affiliated with the Jacobs School that have a UB Card and authorization may access the building and the library. If you are affiliated with the Jacobs School and want authorization, contact the Office of Medical Computing (OMC).
---
Using the Library
Hours
The library is open 24/7.
Library space will remain open to medical school students; however, a librarian will not be available.
---
Reading Room
The Castellani Reading Room provides a quiet study area. There are 6 group study rooms and a group study area inside of the main entrance. There is also a 32 seat computer lab managed by the OMC.
---
Computers
The library is primarily a bring-your-own-device environment. If you have an OMC login and the lab is available, you may use the computers in the computer lab within the library. Check availability using the Jacobs School of Medicine and Biomedical Sciences room request page. Choose the downtown calendar and look for the learning lab, room 2110J library.
---
Printing
There is a color printer which is managed by UBIT and OMC. Please refer to the UBIT Printing guide for information about how to send and release your print job. Note that if you print from a computer in the learning lab, you will be printing to the OMC printers on the 6th floor.
---
Scanning
There is no scanner in the library. Students may use the scanner in the Computer Lab on the 6th floor of the Jacobs School of Medicine and Biomedical Sciences building. There are also scanners available in other non-Jacobs School locations. Please refer to this University Libraries page on scanners for additional information.
---
Research Help
Librarians are available to assist you. We spend our time to save your time. Here are a few of the things we can help you with:
Finding and obtaining information
Searching the literature
Publishing: helping find places to publish; evaluating the credibility of journals; citing sources (EndNote); making your work easily discoverable using OrcID
Systematic reviews
Education: providing classes and workshops; guest lecturing in courses; holding sessions for residents and fellows
EndNote: using the software, troubleshooting, collaborating
Nell Aronoff, Librarian and Liaison to the Jacobs School, may be reached at naronoff@buffalo.edu or 716-829-5735.
You may also contact askhsl@buffalo.edu for email assistance, call 716-829-2322, or take advantage of our instant librarian chat service.
---
Find Materials
All print and electronic material owned by the UB Libraries regardless of format, location, or genre can be searched in our Libraries' Catalog.
---
Print books
There is a small reference collection of textbooks that can be used within the library. Other UB Libraries print books may be requested through Delivery+.
---
Affiliated with UB? You can request materials for free using Delivery+. Articles and book chapters are sent digitally as pdfs. For physical items, students can pick them up at whatever South or North campus library they have designated. Faculty and staff can have physical items delivered to their departmental office, as long as it is a Campus Mail delivery location.
---
Returns
Please return materials to the Abbott Library on South Campus or a North Campus library, or you may return your items by mail if you are a faculty or staff member.