WBFO Set to Broadcast All Nine UB Home Ballgames
The article below first appeared in the April 10, 1964 issue of the UB Spectrum.
---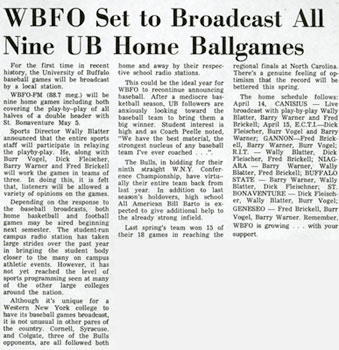 For the first time in recent history, the University of Buffalo baseball games will be broadcast by a local station.
WBFO-FM (88. 7 meg.) will do nine home games including both covering the play-by–play of all halves of a double header with St. Bonaventure May 5.
Sports Director Wally Blatter announced that the entire sports staff will participate in relaying the play-by-play. He, along with Burr Vogel, Dick Fleischer, Barry Warner and Fred Brickell will work the games in teams of three. In doing this, it is fell that listeners will be allowed a variety of opinions on the games.
Depending on the response to the baseball broadcasts, both home basketball and football games may be aired beginning next semester. The student-run campus radio station has taken large strides over the past year in bringing the student body closer to the many on campus athletic events. However, it has not yet reached the level of sports programming seen at many of the other large colleges around the nation.
Although it's unique for a Western New York college to have its baseball games broadcast, it is not unusual in other parts of the country. Cornell, Syracuse and Colgate, three of the Bulls opponents, are all followed both home and away by their respective school radio stations.
This could be the ideal year for WBFO to recontinue announcing baseball. After a mediocre basketball season, UB followers are anxiously looking toward the baseball team to bring them a big winner. Student interest is high and as Coach Peelle noted, "We have the best material, the strongest nucleus of any baseball team I've ever coached…".
The Bulls, in bidding for their ninth straight W.N.Y. Conference Championship, have virtually their entire team back from last year. In addition to last season's holdovers, high school All American Bill Barto is expected to give additional help to the already strong infield.
Last spring's team won 15 of their 18 games in reaching the regional finals at North Carolina. There's a genuine feeling of optimism that the record will be bettered this spring.
The home schedule follows: Ap.il 14, CANISIUS – Live broadcast with play-by-play Wally Blatter, Barry Warner and Fred Brickell; April 15, E.C.T.I.-Dick Fleischer, Burr Vogel and Barry Warner; GANNON-Fred Brickell, Barry Warner, Burr Vogel; R.I.T. – Wally Blatter, Dick Fleischer, Fred Brickell; NIAGARA – Barry Warner, Wally Blatter, Fred Brickell; BUFFALO STATE – Barry Warner, Wally Blatter, Dick Fleischer; ST. BONAVENTURE – Dick Fleischer, Wally Blatter, Burr Vogel; GENESEO – Fred Brickell, Burr Vogel, Barry Warner.
Remember, WBFO is growing . . . with your support.
---
— U.B. Spectrum Newspaper, April 10, 1964