Ed Wright, Head Coach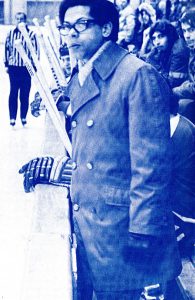 1972-1973 UB Hockey Media Guide
One of the most challenging assignments in U/B Sports has been met head-on, and with success, by Edward L. Wright (Boston U '69). Buffalo's rise in Eastern College Hockey has been rapid under Wright. He departed BU for the Bulls in time for the 1970-71 season and the rugged climb in collegiate hockey as been strictly "up."
Hockey has been on campus, off and on, since before the turn of the century, but just recently has Buffalo made a specific dent in championship performance. The culmination of Wright's work came last year when the Bulls battled Massachusetts for the Division II title in the ECAC.
Buffalo has been mainly a "road" sextet because that has been where much of the action has been. Saddled with a vagabond existence in search for suitable home ice, Wright has not allowed this uncertainty to interfere with his building program. A campus arena is not forecast for the immediate future, however, hockey plans are well-established with Wright's approval.
Ed was rewarded last season by both the sportsmen at U/ B and by his alma mater Terriers. The Student Association voted the little man with a big stick "Coach-of-the-Year" and BU presented him with a special recognition award for his contributions to college coaching.
Wright played for jack Kelley during torrid Terrier days on the famed "UN" line with boyhood cohorts Herb Wakabayaski and Serge Boily from 1966-69. A hustling wing, Eddie was noted for his tenacious forechecking and penalty killing ability. He earned his team's most improved award as a junior and his senior season was named the senior who best exemplified the spirit of a BU hockey player.
He spent a year working towards a master's degree in education at BU before accepting the post with the new Bulls, at the time one varsity season old. His two teams have played 8-7-1 and 14-8-0.
An instructor in physical education, Wright has been active in summer hockey schools. He served under Fred Shero at Lockport's Kenan Center and has been on the summer staff with Pete Rush at the Nichols School.
Quickly gaining respect on campus and in the western New York hockey hot-bed community, Ed introduced floor or ring hockey to Clark Gym and the game has been met with gusto.
Wife Vivian (Boston U '70) is an avid fan.