Gem City Bowl – All-Star Football Game
by Scott Hollander
University at Buffalo Libraries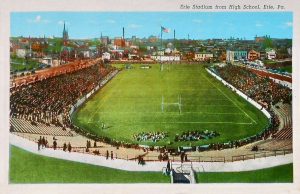 The Gem City Bowl was an all-star college football game played at Erie Veterans Memorial Stadium in Erie, Pennsylvania in 1958, 1959, 1960, 1961, 1962 and 1964, typically on Thanksgiving Day. The game was discontinued following the 1964 season due to poor ticket sales.
The East / West squads were made up of outstanding seniors from the Big Ten, Mid-American Conference, Pennsylvania State Conference, Mid-Atlantic Conference, and players from Independent schools east of the Mississippi River. Buffalo players played usually played a prominent role in the games played.
1958 | 1959 | 1960 | 1961 | 1962 | 1963 | 1964
---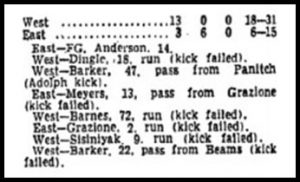 1958
A crowd of 7,000 showed up to watch players from Eastern and Western universities and colleges clash in the first Gem City Bowl played for Erie, PA charities.
The West team was coached by Ara Parseghian of Northwestern and the East by Franck Reagan of Villanova. The West team roiled to a 31-15 victory.
---
Buffalo's Willie Evans and Sam Sanders made major contributions in the 17-16 victory of the East over the West in the 2nd Gem City Bowl. Evans scored the game's first touchdown on a 9 yard sweep in the first quarter. Sanders made a fourth down tackle which stopped a West drive on the East 27 in the final three minutes of play.
---
1960
Buffalo's Gordon Bukaty sparked the East to a 27-26 victory over the West in the third annual Gem City Bowl football game. Bukaty ran for one touchdown and threw for two to Nick Anzelmi of George Washington – one for 15 yards and another for 10 yards.
With seconds left, the West scored a touchdown to close the gap to 1 point.  Gambling for a victory instead of a tie, the West tried for a 2-point conversion but failed.
---
Buffalo head coach Dick Offenhamer was chosen to coach of the East squad in the the 4th Gem City Bowl. Buffalo's Bill Selent, Bill Roof, Bob Miller, Jack Hartman, along with Ron Clayback, all played on the East squad.
Clayback scored one touchdown and Bill Selent caught a pass to set up  another to help the East defeat the West, 21-12.
---
Buffalo linebackers Kevin Brinkworth and Dick Hort were key defensive men for the East but the East bowed to the West, 12-8, in the 1962 Gem City Bowl. The game's standout performance was that of Frank Baker of Toledo who was the game's MVP. Baker carried the ball for 110 yards and scored the winning touchdown.
---
---
The East, behind the running and passing of Buffalo's Don Gilbert, came from behind to defeat the West, 19-12, in the sixth annual Gem City Bowl. Gilbert put the East ahead when he plunged over from the one-yard line after completing a 42-yard pass to Buffalo teammate Bob Edwards. The East's insurance touchdown was set up when Buffalo's Jim McNally recovered a fumble on the West 42-yard line.
---
Gem City Bowl Results
Date
Winner
Loser
Attendance
Winning Coach
November 27, 1958
West – 31

East – 15
7,000
Ara Parseghian, Northwestern
November 26, 1959
East – 17
West – 16
7,000
Frank Reagan, Villanova
November 24, 1960
East – 27
West – 26
6,500
Loyal K. Park, Edinboro State
November 23, 1961
East – 21
West – 12
3,500
Dick Offenhamer, Buffalo
November 21, 1962
West – 12

East – 8
3,000
John Pont, Miami (Ohio)
November 21, 1964
East – 19

West – 12
3,800
Alexander F. Bell, Villanova
---