Baseball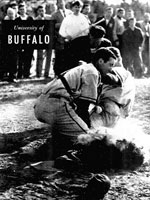 The history of baseball at the university goes back to 1894. After the turn of the century, interest in the game faded. The entire UB athletics program was cancelled in 1904 due to a lack of financial support, personnel and leadership.
Starting in 1914, the University fielded baseball teams and arranged great schedules with several prominent schools. In 1920, during the University's move to what is now the South Campus, the athletics department was again reorganized and baseball was dropped.
Baseball officially returned after World War II. In 1949, Jim Peelle coached a short four-game schedule and called for more financial support from the University as baseball's popularity increased.
---
Early Years
1894 – The first mention of a University of Buffalo baseball team found is from an October 1895 article in the Buffalo Evening News. In the article, it starts that the baseball team from the previous year would be reorganized so it seems that U.B. baseball goes back to at least 1894.
1914 – Baseball Returns – For the first time in many years, the University of Buffalo was represented on the baseball diamond during the 1914 spring baseball season. Manager Arthur O. Harris organized several games mostly against high school teams.
1915 – Varsity Sport – Coached by George "Heinie" Smith, U.B. appears on the baseball schedule of Syracuse University, the University of Rochester, Niagara University, St. Lawrence University and Masten Park High school. U.B. home games were played at the International baseball park at East Ferry St and Michigan Ave. COACH: George "Heinie" Smith
1916 – Slim Thill and Cosy Dolan – Buffalo chalked up eight victories against five defeats, with one tie game. Three of the 13 games played were extra inning games. The schedule included some of the best teams in the country.COACH: George "Heinie" Smith
FINAL RECORD: 8-5-1
1917 – Baseball and World War I – Lead once again by Coach George "Heinie" Smith, eighteen games, including eight at home, were booked for the 1917 U.B. baseball team but wartime conditions end the season early. (COACH: George "Heinie" Smith
---
Post World War II
1949- Informal Appearance – Baseball made an informal appearance under Coach Peelle. After 82 candidates expressed an interest in diamond warfare, a four-game schedule was played and U.B. swept the field. Peelle called for money and a more pretentious program.COACH: James Peelle
FINAL RECORD: 4-0
1950 – Appeal for Funds – The baseball varsity squad received $400 to conduct its 1950 spring program and the Bulls were 2-5, however, there still was no field on campus for practice or games.COACH: Carl Pilarski
FINAL RECORD: 2-5
1951
COACH: Ed Muto
FINAL RECORD: 6-3
1952
COACH: Jim Peelle
FINAL RECORD: 8-2
1953
COACH: Jim Peelle
FINAL RECORD: 7-3
1954
COACH: Jim Peelle
FINAL RECORD: 2-8
1955
COACH: Jim Peelle
FINAL RECORD: 13-3
1956
COACH: Jim Peelle
FINAL RECORD: 6-5
1957
COACH: Jim Peelle
FINAL RECORD: 8-7
1958
COACH: Jim Peelle
FINAL RECORD: 10-6
1959
COACH: Jim Peelle
FINAL RECORD: 12-5
---
1960
1960 –The 1960 baseball record of 14-2 was at the time the best in school history. Peelle's diamondmen were now advanced as the class of Western New York baseball.
COACH: James Peelle
FINAL RECORD: 14-2
1961
COACH: Jim Peelle
FINAL RECORD: 14-5
1962
COACH: Jim Peelle
FINAL RECORD: 14-6
1963 – NCAA Bid – Baseball in 1963 earned its due respect with a 15-3 record and an invite to the NCAA Atlantic Division Tournament. It was the first time baseball had distinguished itself with a tourney bid.
COACH: James Peelle
FINAL RECORD: 15-3
1964 – Played at Yankee Stadium – A 13-5 record and another invite to the NCAA Atlantic Tournament with two post-season games at Yankee Stadium.
COACH: Jim Peelle
FINAL RECORD: 13-5
1965
COACH: Jim Peelle
FINAL RECORD: 9-3
1966
COACH: Jim Peelle
FINAL RECORD: 12-6
1967 – Local Champions – Baseball in 1967, 16-1, was marked by a new brand of college stars on campus. Catcher Brian Hansen led the NCAA College Division batters with a crisp .533 average. For the ninth consecutive season the Bulls won the Western New York Intercollegiate Baseball League, initiated originally by Coach Peelle.
COACH: James Peelle
FINAL RECORD: 16-1
1968 – Expanded Schedule – The Bulls took a six-game southern trip and played their most extensive schedule to date as Bill Monkarsh takes over the coaching duties.
COACH: Bill Monkarsh
FINAL RECORD: 19-6-1
1969
COACH: Bill Monkarsh
FINAL RECORD: 14-16
---
1970
1970
COACH: Bill Monkarsh
FINAL RECORD: 14-14-1
1971
COACH: Bill Monkarsh
FINAL RECORD: 20-12
1972
COACH: Bill Monkarsh
FINAL RECORD: 19-15-1
1973
COACH: Bill Monkarsh
FINAL RECORD: 20-13
1974
COACH: Bill Monkarsh
FINAL RECORD: 26-12-1
1975
COACH: Bill Monkarsh
FINAL RECORD: 14-22
1976
COACH: Bill Monkarsh
FINAL RECORD: 26-15
1977
COACH: Bill Monkarsh
FINAL RECORD: 24-20
1978
COACH: Bill Monkarsh
FINAL RECORD: 27-19
1979
COACH: Bill Monkarsh
FINAL RECORD: 25-16
---
1980
1980
COACH: Bill Monkarsh
FINAL RECORD: 32-13
1981
COACH: Bill Monkarsh
FINAL RECORD: 22-15
1982
COACH: Ray Borowicz
FINAL RECORD: 17-16
1983
COACH: Ray Borowicz
FINAL RECORD: 20-8
1984
COACH: Ray Borowicz
FINAL RECORD: 10-22
1985
COACH: Ray Borowicz
FINAL RECORD: 13-29
1986
COACH: Ray Borowicz
FINAL RECORD: 18-21
1987
COACH: Ray Borowicz
FINAL RECORD: 18-20