1964 Buffalo Bulls Baseball
by Scott Hollander
University at Buffalo Libraries
---
A lot was expected of the 1964 Buffalo Bulls Baseball team. It had virtually the entire squad back from the previous year.
The 1963 (14-2) team participated in an NCAA tourney the previous year in Hampden-Sydney, Va., winning the first game and losing the second for a second-place finish.
Coach Jim Peelle felt the 1964 team had an excellent chance of getting another bid to one of the NCAA's regional tournaments. He noted, "We have the best material, the strongest nucleus of any baseball team I've ever coached…".
For the first time in recent history, the University of Buffalo home baseball games were broadcasted by radio station WBFO. The student-run campus radio station hoped to bring the student body closer to U.B. athletic events.
The Western New York Intercollegiate Baseball Conference consisted of Buffalo State, Canisius College, Erie County Tech, Niagara University,  St. Bonaventure University and the University at Buffalo. In 1964, U.B. won the conference title for the tenth year in a row. The baseball Bulls finished the regular season with a 13-3 mark, with the high spots reached in victories over Colgate and Cornell.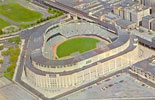 The 1964 Buffalo team was again invited to the NCAA College Division Atlantic Region tournament. The 1964 tournament was played at the original Yankee Stadium in the Bronx. The U.B. players must have been very excited to play in such an environment. The 1964 New York Yankees, featuring Mickey Mantle and Roger Maris, played the St. Louis Cardinals in the World Series. The Bulls lost both of its 1964 tournaments games finishing the year at 13-5. (see "Old Dominion Tips UB in NCAA Play" Buffalo Courier-Express, 6 June 1964)
Dale DelBello did an excellent job at first base, according to Peelle, who was equally boastful of his outfield of John Stofa, Lynn Johnson and Jim Kraft. Larry Gergley headed the pitching contingent that included Ed Wianecki and Bill Zelman as the winningest. Bill Barto, star shortstop of the team, was named to the All-America first team of the NCAA College Division. Barto hit .338 for the season.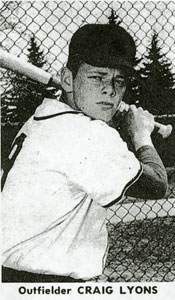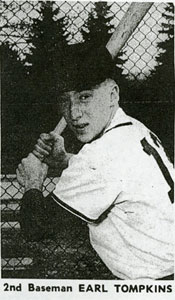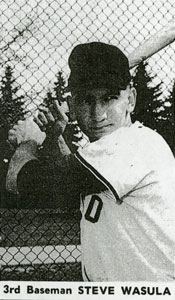 ---
1964 Buffalo Baseball Season
Date
Home Team
Score
Visiting Team
W-L-T
Location
4/14/1964
Buffalo
12 – 0
Canisius College
W
Buffalo, NY
4/15/1964
Buffalo
11 – 2
Erie County Technical Institute
W
Buffalo, NY
4/17/1964
Syracuse University
13 – 2

Buffalo
L
Syracuse, NY
4/18/1964
Buffalo
3 – 7
Gannon University
L
Buffalo, NY
4/19/1964
Buffalo
5 – 2
Rochester Tech (RIT)
W
Buffalo, NY
4/20/1964
Canisius College
7 – 22
Buffalo
W
Buffalo, NY
4/28/1964
Cornell University
3 – 5
Buffalo
W
Ithaca, NY
5/2/1964
Rochester Tech (RIT)
0 – 8
Buffalo
W
Rochester, NY
5/5/1964
Buffalo
1 – 3
St. Bonaventure University
L
Buffalo, NY
5/5/1964
Buffalo
10 – 1
St. Bonaventure University
W
Buffalo, NY
5/6/1964
Buffalo
8 – 0
Buffalo State
W
Buffalo, NY
5/7/1964
Buffalo
8 – 0
Geneseo State
W
Buffalo, NY
5/9/1964
Colgate University
5 – 6
Buffalo
W
Hamilton, NY
5/11/1964
Buffalo
4 – 2

Niagara University
W
Buffalo, NY
5/11/1964
Buffalo
12 – 0

Niagara University
W
Buffalo, NY
5/12/1964
Erie County Technical Institute
5 – 7
Buffalo
W
Buffalo, NY
5/12/1964
University of Rochester
canceled
Buffalo
—
Buffalo, NY

NCAA Atlantic Tournament at Yankee Stadium
6/5/1964
Old Dominion
 7 – 2
Buffalo
L
New York, NY
6/6/1964
Central Connecticut
 4 – 2
Buffalo
L
New York, NY
FINAL LEAGUE RECORD: 13-5
Coach: Jim Peelle
Home: Clark Field
---
Old Dominion Tips UB in NCAA Play

Special to The Courier-Express

—
NEW YORK – Old Dominion College of Norfolk, Va., scored seven unearned runs five after two were out in the fifth inning to defeat the University of Buffalo baseball team, 7-2, in the NCAA Atlantic Coast Tournament at Yankee Stadium Friday.

The Bulls will meet Central Connecticut State College in the consolation game at 10 a.m. today before Old Dominion faces Long Island University, which beat Central Connecticut, 1-0.

Last year, the same Old Dominion team knocked Buffalo out of the same tourney 9-0, in the final game at Hampden Sydney, Va.

Friday nothing seemed to go right for the Bulls, who outhit the Monarchs 11 to 6 but could produce only two runs and did not score until the seventh, when they trailed, 7-0.

Buffalo threatened from the start with Earle Tomkins' walk and a double by Bill Barto, but John Stofa's pop to third and a looper by Lynn Johnson caught by the left fielder ended the rally.

Ball Miscues Hurt

Old Dominion touched Larry Gergley for two runs in the second after two singles put men on first and third. Tomkins let a grounder go through at second for one run, and Gerry Montemano's passed ball accounted for the other.

Meanwhile, Buffalo was hitting but not scoring with one safety in the second, two in the third, two in the fourth and one in the fifth. In the fifth the Virginians broke it open on five runs.

With two out, third baseman Steve booted a grounder and Gergley was touched for a walk, and triple, a walk, a triple and two more walks. Spiced in with another error, a stolen base and a wild pitch, they added up to a disastrous five-ran outburst.

The Bulls finally made the scoring column in the seventh on Gergley's triple to right center and Washula's infield out. They added their last run In the eighth on two errors by Old Dominion's shortstop and Gergley's single to center.

Barto was the leading Buffalo hitter with 4-5. His chance for a perfect day was ruined by a ninth inning pop foul to third. Dan Kraft, Wasula and Gergley each accounted for two hits. But the Bulls couldn't get them when they counted and suffered frustration at the hands of Old Dominion for the second successive season.

— Buffalo Courier-Express, June 6, 1964