1901 Buffalo Football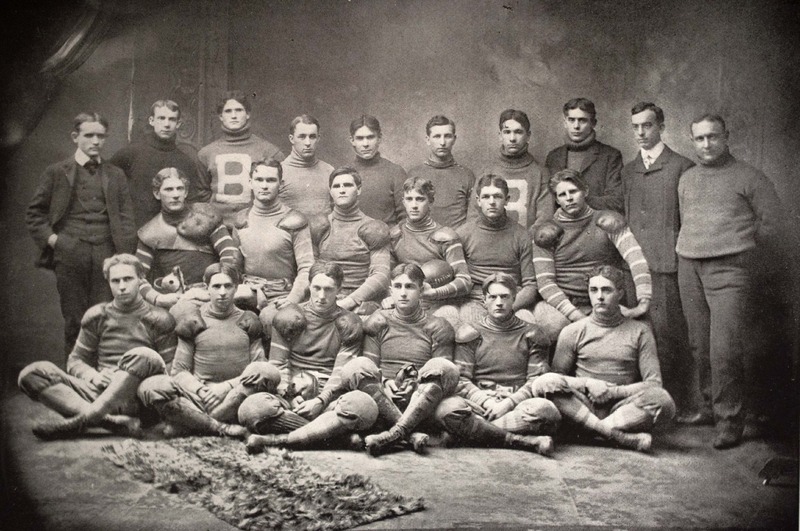 Heading into the University of Buffalo's (U.B.) football match with the 1901 Michigan Wolverines football team in Ann Arbor on October 26, 1901, the Buffalo team must have been feeling pretty good about itself.  After all, not only was it undefeated at 4-0, the team had yet to yield a single point all season.
Prior to the 1901 season, U.B. hired James B. "Turk" Gordon, their former star fullback who graduated from the Department of Dentistry in 1900. (see "Turk Gordon to Coach U. of B." Buffalo Express, 9 July 1901) Gordon was also hired to coach the Masten Park High School (now Buffalo City Honors) football team in Buffalo, NY and had the two teams practice against each other on a regular basis.
Buffalo started out the season by surprisingly defeating the Columbia University football team 5-0  in the Pan-American Exposition Stadium on the Pan-American grounds in Buffalo, NY. Things were looking up. Buffalo justified the confidence of its supporters by decisively beating a strong Lehigh University team by a score of 16-0 the following week in Buffalo.  After two more home shutout wins against Case and Oberlin, it was time to hit the road.  An away match against the University of Michigan Wolverines football team was up next.
Leading up to game, U.B. Coach Gordon was quoted in the Buffalo Express on October 23, 1901 expressing his concern about the health of the team.  A scheduled game that day against Hobart was cancelled due to injuries and the looming Michigan game.  Three keys players,  Ed Mills, Charlie Haase, and fullback Harry Mason were all 'nicked up' to varying degrees. If they couldn't play, it would leave his team in a "deplorable condition" to battle Michigan.  Plus, the Wolverines were also 4-0 and had outscored their opponents 174-0.  A telling sign perhaps?  None the less, it was off to Ann Arbor, Michigan.
On that inauspicious October day, Buffalo actually started out the game strong, driving to the Michigan 25 yard line.  U.B. fullback Harry Mason, who was able to play, attempted a field goal that was no good. It would be the last "positive" thing Buffalo would muster the entire afternoon. After the failed attempt, Michigan simply mauled Buffalo. The U.B. team was overwhelmed and over matched. Michigan scored almost at will. Michigan's Albert Herrnstein led the scoring with six touchdowns, and additional touchdowns were added by Neil Snow (4), Willie Heston (3), Arthur Redner (3), Curtis Redden (2) and Bruce Shorts. In the end, the University of Michigan football team defeated the University of Buffalo by a score of 128–0. (see "Was It Football?" Buffalo Express, 27 October 1901)
The next day, a New York Times headline said it best: "The Wolverines Administer to Bisons a Most Overwhelming Defeat".  Overwhelming indeed! The outlandish score drew national attention. Another newspaper account reported that "the most spectacular" play of the game came on a 90-yard touchdown run by Hernstein. It was said that Michigan was so dominant, the Buffalo team actually quit fifteen minutes before the game should have ended.
To be fair to Buffalo, it should be noted that the 1901 Michigan team is now considered perhaps the best college football team of all time. They finished the season undefeated with an 11–0 record, outscoring their opponents by the unprecedented total of 550 to 0. The Wolverines concluded their season on January 1, 1902 by defeating Stanford, 49–0, in the 1902 Rose Bowl.
None the less, Coach Gordon was understandably distraught with the "Michigan Massacre" and was embarrassed by the rout.  He was quoted in the October 28, 1901 edition of the Buffalo Express as saying "I will play fullback in the next game and I'll have a gun with me.  The first Buffalo man who shows yellow, I'll drop." The next game being an exhibition on Election Day in Watertown, NY against the Watertown Athletic Association semi-pro football team, for which Gordon had coached the previous year. With Turk playing fullback, Buffalo (playing under the name "All-Buffalo" since the injury deleted team included non-students) would lose the well fought game 6-0.
The next scheduled game, against Colgate, was canceled by Colgate. Buffalo played Western Reserve University in Cleveland, OH the next weekend but lost 17-6. Buffalo would cancel its next two scheduled matches against Syracuse University and Bucknell.  Finally, on November 22, it was announce that the University of Buffalo had officially quit football for the season due to a lack of support and interest.  Buffalo simply did not have enough healthy men to field a team. The announcement wiped out the final game, the Thanksgiving Day rematch with Penn State in Buffalo.
Buffalo would finish the season with 4 wins and 2 loses with 5 canceled games. A season that started out so promising had utterly collapsed. The first four victories had caused so many injuries, the team was devastated beyond repair. Embarrassed after the Michigan game, U.B. football was clearly in disarray. The future of collegiate football in Buffalo seemed uncertain at best.
---
1901 Buffalo Football Season
| Date | Home Team | Score | Visiting Team | W-L-T | Location |
| --- | --- | --- | --- | --- | --- |
| 9/28/19011 | Buffalo | 5 – 0 | Columbia | 1-0-0 | Buffalo, NY |
| 10/5/19012 | Buffalo | 16 – 0 | Lehigh | 2-0-0 | Buffalo, NY |
| 10/12/19013 | Buffalo | 6 – 0 | Case | 3-0-0 | Buffalo, NY |
| 10/17/19014 | Buffalo | 5 – 0 | Oberlin | 4-0-0 | Buffalo, NY |
| 10/23/19015 | Buffalo | Canceled | Hobart College | — | Buffalo, NY |
| 10/26/19016 | Michigan | 128 – 0  | Buffalo | 4-1-0 | Ann Arbor, MI |
| 11/2/19017 | Buffalo | Canceled | Colgate | — | Buffalo, NY |
| 11/9/19018 | Western Reserve | 17 – 6 | Buffalo | 4-2-0 | Cleveland, OH |
| 11/16/19019 | Syracuse | Canceled | Buffalo | — | Syracuse, NY |
| 11/23/190110 | Buffalo | Canceled | Bucknell | — | Buffalo, NY |
| 11/28/190111 | Buffalo | Canceled | Penn State | — | Buffalo, NY |
FINAL RECORD: 4-2-0
Home: Pan-American Exposition Stadium
Coach: James B. "Turk" Gordon
Total Points: Visiting Clubs: 145
Total Points: University of Buffalo: 38
---
"Columbia Beat By Buffalo" New York Daily Tribune, New York, NY, 29 September, 1901.
"Buffalo Again Victorious" Rochester Democrat & Chronicle, Rochester, NY, 6 October 1901.
" "Buffalo Defeats Case School" Rochester Democrat & Chronicle, Rochester, NY, 13 October 1901.
"Buffalo Beats Oberlin" Rochester Democrat & Chronicle, Rochester, NY, 18 October 1901.
"U. of B. Has Cancelled Wednesday's Game With Hobart" The Buffalo Express, Buffalo, NY, 22 October, 1901.
"Was It Football?" Buffalo Express, Buffalo, NY, 27 October, 1901.
"U. of B.'s Seven Men" Buffalo Express, Buffalo, NY, 1 November, 1901.
"Western Reserve Won" Buffalo Express, Buffalo, NY, 10 November, 1901.
"Buffalo May Cancel Game" The Syracuse Post-Standard, Syracuse, NY, 12 November 1901.
10 – "Bucknell Game Canceled" Buffalo Express, Buffalo, NY, 19 November, 1901.
11 – "Throws Up the Sponge" Buffalo Express, Buffalo, NY, 22 November, 1901.
---
TURK GORDON TO COACH U. OF B.
Manager Bixby of the University of Buffalo football team and Turk Gordon, who formerly played such a brilliant full back for the local eleven, had a talk at the Pan-American grounds last night as a result of which Gordon will coach the U. of B. football players this fall. Gordon has been in Erie for some time and it is understood he came here especially to meet Bixby. Practice will be begun by the college candidates by August 10th.
— Buffalo Express, July 9, 1901
---
WAS IT FOOTBALL?
Michigan literally wiped the Field with University of Buffalo
FINAL SCORE: 128 TO 0.
Shorts kicked eighteen Goals, missed four. Biggest college Score recorded.
—
Ann Arbor, Mich.,  October 28 – Michigan gave the University of Buffalo a taste of Western quality of football here today when when she literally wiped up the field today with her Eastern opponents, the final score being the largest one ever made on Regents Field, 128 to 0. Buffalo came out feeling strong and hopeful and expected to win, at least to score. They were a very much disappointed lot after the game, but made no excuses whatever.
Harry Mason of the Buffalo team narrowly missed a place kick from the 25-yard line and this was the only time Buffalo was anywhere near a score. The lack of training of the visiting eleven was very apparent, especially in the second half when a man was laid out after almost every rush.
Turk Gordon said: "Our condition was not poor, for we were in fine shape.  We were simply outplayed and Michigan's work was simply marvelous. It was the finest exhibition of football I have ever seen."
— Buffalo Express, October 27, 1901