1970-1971 Buffalo Bulls Hockey
Below is an article on the Buffalo Bulls hockey team that first appeared in the UB Reporter back on February 25, 1971.
---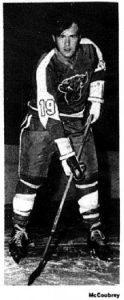 Hockey at U/B Has Come a Long Way From Hand-Me-Downs, Late Practices
By Steve Lipman
UB Reporter staff writer
Football jerseys and midnight practices. Those are among your memories if you played hockey for the University of Buffalo when the sport began here in 1962. And if you are Dan Gorney, the team's leading player, the memories are even clearer.
Hockey was just a club sport then, meaning it received no funds from the Athletic Department. It was student run, with no recruiting. In fact, anyone who wanted to skate for Buffalo had to foot his own bill, usually to the tune of $25 per man.
"That money went for practices and equipment," Gorney recalls. At least the Athletic Department threw in the jerseys. "They gave us the freshman football team's practice jerseys. But they were too small for all of us, and it was pretty hard moving around in those things. They were like straightjackets." Gorney did his share of moving, though. Many observers consider him one of the best players ever to lace on skates for U/B. "He could outskate, outshoot, and out-defense everyone on the club," remembers Ivan Makuch, a U/B graduate student who was then the club's manager.
Everything But Goal
"About all he couldn't do was play goal. He probably would have played in the National Hockey League if he had stuck with it." "I thought about it," Gorney says, "but I knew you had to be able to devote 100 percent to it. And I couldn't afford it with school." Gorney, who has played for area amateur teams, taught history at Bennett High School a few years before going to his present job as an executive at Marine Midland Bank.
Practices in the early days of U/B hockey weren't easy, Gorney recalls. The sessions started at the Ft. Erie Arena, across the Peace Bridge, about 11 or 12 at night, and ran till 2 o'clock, because the club got an hour's free ice time from twelve to one. Things improved the next few years as the team practiced where it played — the Amherst Recreation Center on Millersport Highway — and received some help from the Athletic Department. The club's biggest advance came when graduate student Howard Flaster became general manager.
Now director of U/B's Alumni Programs, Flaster was never on skates, but was all over Southern Ontario at his own expense scouting and signing outstanding players. The Bulls went varsity two years ago and posted a 14-3 record against mediocre competition. This year they dropped the weaker opponents, added the team's first full-time coach, Ed Wright, former star at Boston University, and finished 8- 7-1.
First Black Coach
Wright, college hockey's first black player and coach, played on a famous line at BU, the "International Line" that featured Wright at center and a Japanese-Canadian and a French-Canadian at wings. The Bulls' Eastern College Athletic Conference (ECAC) Division II record was 5-2-1 this season, their only losses coming early in the year to Oswego and last Monday to American International College. Even though Wright admits that this year's record was "not outstanding," he still feels pleased.
"I think we showed the fans how good college hockey is played, and … we gave them something to be proud of." Many of the Bulls' home games at the Amherst Recreation Center this winter were played before standing room only crowds; more than 1,000 had to be turned away from last week's contest against Oswego State, which Buffalo won, 5-2. Wright hopes to schedule some games in Memorial Auditorium next season.
Those are not Wright's only plans for the future. He figures on having a freshman team for the first time next year — a requisite for joining ECAC's University (I) Division. Once in Division I, Wright hopes to schedule national powers like Michigan Tech and Notre Dame, and drop Canadian teams. Next year's schedule will be made up at the NCAA and ECAC's mid-March hockey meetings and Wright hopes to land Cornell, Colgate, Clarkson and St. Lawrence.
Five of this year's players graduate — forwards Buzzy Hill, Jim McCoubrey and Bob Kalinowski, and defensemen Jim Resume and Paul Morrissey. But three Junior B players and three transfers from Canton Tech should make up for the loss. Returnees like center Bill Newman and defenseman Grant Nicholson won't hurt either.
Back to Gorney
Now back to Gorney. One of his favorite memories came during a game against Oswego State. "I broke a toe in my left foot during the second period. We were behind 4-3 at the time. "Well, they gave me a shot and I played most of the last period. I scored the tying goal and the go-ahead and my linemate scored the sixth goal. We won 6-4 and our goalie Ken Sherry had to stop 65 shots. He was all-league that year." The Bulls placed two men on the Finger Lakes All-Star team that year. Dan Gorney at center was the other.
— UB Reporter, 25 February 1971
---
1970-1971 Buffalo Bulls Hockey Season
| Date | Home Team | Score | Visiting Team | W-L-T | Location |
| --- | --- | --- | --- | --- | --- |
| 11/24/1970 | Colgate | 7 – 4 | Buffalo | L | Hamilton, NY |
| 11/25/1970 | Salem State | 5 – 5 | Buffalo | T | Lynn, MA |
| 11/28/1970 | Merrimack | 2 – 6 | Buffalo | W | North Andover, MA |
| 12/4/1970 | Queen's | 7 – 4 | Buffalo | L | Kingston, ON |
| 12/9/1970 | Buffalo | 6 – 8 | Waterloo Lutheran | L | Buffalo, NY |
| 1/16/1971 | Oswego State | 6 – 5 | Buffalo | L | Oswego, NY |
| 1/20/1971 | St. Anselm's | 4 – 11 | Buffalo | W | Manchester, NH |
| 1/21/1971 | American International | 5 – 7 | Buffalo | W | Springfield, MA |
| 1/24/1971 | Boston State | 2 – 3 | Buffalo | W | Boston, MA |
| | Buffalo | 1 – 3 | Canton | L | Buffalo, NY |
| 2/1/1971 | Buffalo | 4 – 3 | McMaster | W | Buffalo, NY |
| 2/6/1971 | Buffalo | 20 – 2 | Rochester Institute of Technology | W | Buffalo, NY |
| 2/11/1971 | Waterloo Lutheran | 4 – 2 | Buffalo | L | Waterloo, ON |
| 2/13/1971 | Buffalo | 11 – 7 | Brock | W | Buffalo, NY |
| 2/20/1971 | Buffalo | 5 – 2 | Oswego State | W | Buffalo, NY |
| | American International | 5 – 3 | Buffalo | L | Springfield, MA |
FINAL RECORD: 8-7-1
Home: Amherst Recreation Center
Coach: Ed Wright
---
HOCKEY BULLS AT HOME
The University of Buffalo hockey team
will launch its home schedule at 9:30
tonight against Waterloo Lutheran at the
Amherst Recreation Center.
The ice Bulls will have a veteran front line of
Jim MeCoubrey, Bob Bundy and Jim Reaume.
It will be the home ice debut for Coach
Ed Wright, a former standout player at
Boston University
—Buffalo Courier-Express, 9 December 1970