1974 Buffalo Bulls Soccer
by Scott Hollander
University at Buffalo Libraries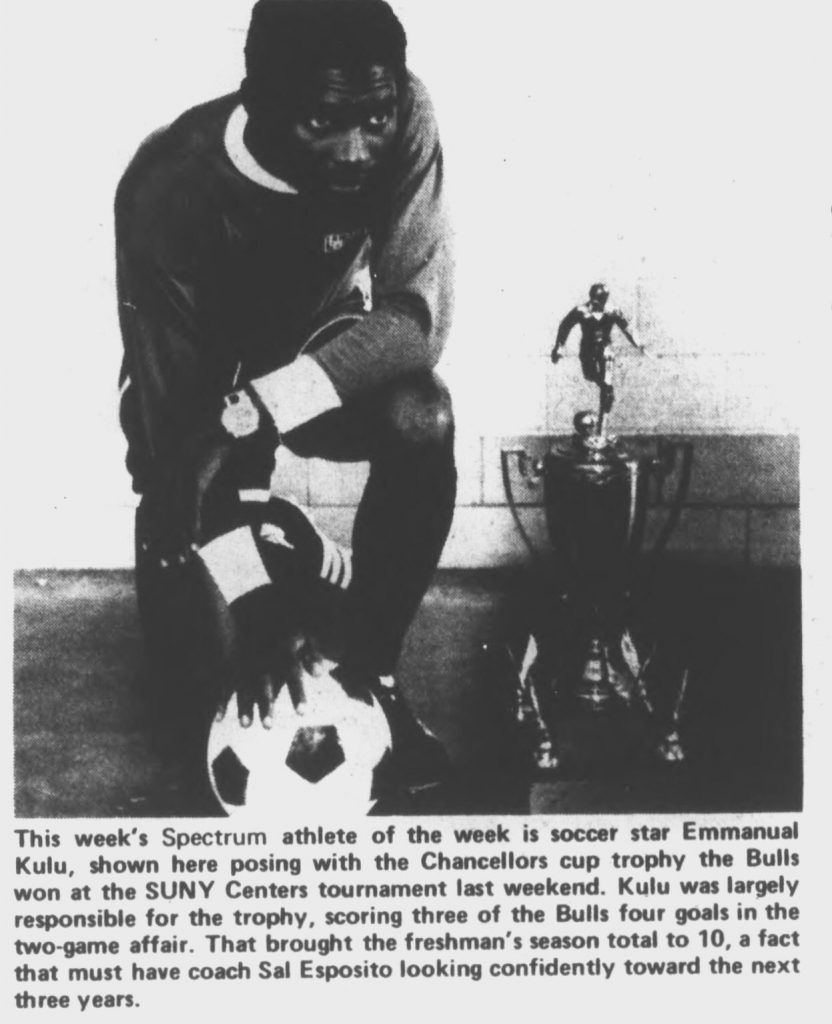 The November 6, 1974 UB Spectrum newspaper "Athlete of the Week" was soccer star Emmanual Kulu, shown above with the Chancellors cup trophy the Bulls won at the SUNY Centers tournament on November 2, 1974.
Kulu was largely responsible for the trophy, scoring three of the Bulls four goals in the two-game affair. That brought the freshman's season total to 10, a fact that must have had coach Sal Esposito looking confidently toward the next three years.
The Bulls finished the 1974 season with 8 wins, 3 loses and 1 tie.
---
1974 Buffalo Bulls Soccer Season
| Date | Team | Score | W-L-T | Location |
| --- | --- | --- | --- | --- |
| 9/21/1974 | at Syracuse University | 4 -3 | L | Syracuse, NY |
| 9/25/1974 | Buffalo State | 3 – 0 | W | Buffalo, NY |
| 10/2/1974 | SUNY Brockport | 4 – 2 | L | Buffalo, NY |
| 10/5/1974 | Gannon University | 9 – 3 | W | Buffalo, NY |
| 10/9/1974 | at St. Bonaventure | 3 – 3 | T | Olean, NY |
| 10/12/1974 | Ohio University | 2 – 1 | W | Buffalo, NY |
| 10/16/1974 | at Niagara University | 6 – 1 | W | Niagara Falls, NY |
| 10/19/1974 | Canisius College | 4 – 0 | W | Buffalo, NY |
| 10/23/1974 | at St. John Fisher | 7 – 0 | W | Rochester, NY |
| 10/26/1974 | at SUNY Geneseo | 3 – 0 | L | Geneseo, NY |
| 11/2/1974 | SUNY Binghamton | 2 – 1 | W | Stony Brook, NY* |
| 11/2/1974 | SUNY Stony Brook | 2 – 0 | W | Stony Brook, NY* |
---
FINAL RECORD: 8-3-1
Home Court: Rotary Field
Coach: Sal Esposito
*Big 4 SUNY Center Tournament in Stony Brook, NY