City of Buffalo - Neighborhoods
For more information about the process of determining neighborhood boundaries, please refer to the Bibliography. This map is a completed project from a retired UB librarian.
---
---
General Information
Welcome to the city of Buffalo Neighborhoods Map. The "City of good neighbors" consists of thirty-two neighborhoods varying in size, function, and historic significance. These current neighborhoods are described by location within the city, community associations, and cultural and ethnic history. Additional features of this page include links to related sites and a selected bibliography of source materials used in compiling the Neighborhoods Map website.
---
---
---
List of Buffalo Neighborhoods
---
This page is updated regularly and will include neighborhood boundaries, more photos, more links, and additional data.
If you live in a neighborhood and have photos or other materials that you can share, we would be willing to consider them for addition to this site (credit for photos will be given).
---
Map KEY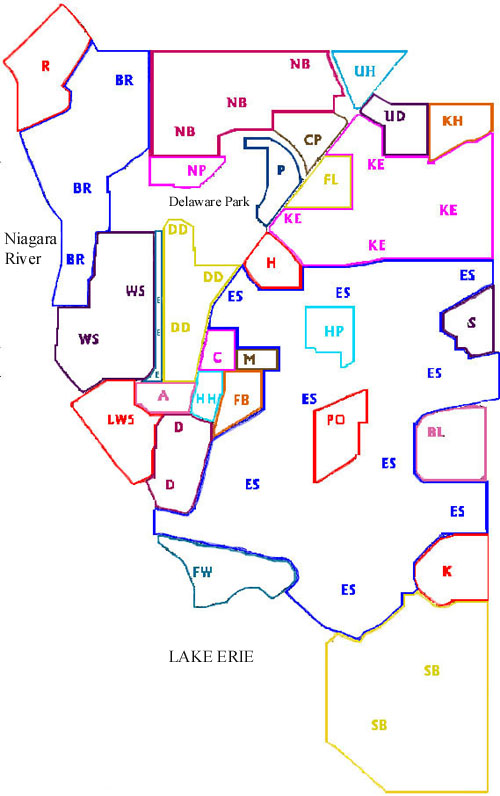 Bibliography
The following sources were consulted in creating this website:
American Atlas Company. Atlas of the City of Buffalo, New York. (NY: American Atlas Company, 1894 [i.e. 1895])
Beveridge, Charles E. The Master List of Design Projects of the Olmsted
Firm, 1857-1950. (Washington, DC: National Association for Olmsted Parks in conjunction with the Massachusetts Association for Olmsted Parks, c.1987)
Buffalo Architecture: a guide. (Cambridge, MA: MIT Press, c.1981)
Cram, George F. Company. A descriptive review of the commercial,
industrial, agricultural, historical development of the state of
New York, with special charts, detail maps and profuse half tone
illustrations from all parts of the Empire state. (Chicago, NY: G.F. Cram, [c.1914])
Geological Survey (US). Buffalo quadrangle, New York. (Map). (Washington, DC: The Survey, 1948).
Geological Survey (US). New York. Erie County. Buffalo Quadrangle. (Map). (Washington, DC: The Survey, 1901).
Goldman, Mark. City on the Lake: the challenge of change in Buffalo,
New York. (Buffalo, NY: Prometheus Books, 1990).
Goldman, Mark. High Hopes: the rise and decline of Buffalo, New York. (Albany, NY: State University of New York Press, c.1983)
Kowsky, Francis R., editor. The Best Planned City: the Olmsted legacy
in Buffalo. (Buffalo, NY: Buffalo State College Foundation, 1991)
The National Register of Historic Places. (Washington, DC: National Parks Service, 1969- )
Simon, Jacqueline C. "Changes in the residential neighborhood Parkside,
Buffalo, NY, 1925-1950." (Master's Thesis, SUNY University at Buffalo, 1989)
In addition, materials produced in English 201 (M.E. Schindler) are being incorporated into neighborhood pages from course projects (2010- ). Students are credited on pages relating to their project contributions.
---
Related Sites
Buffalo, New York Metropolitan Area
Buffalo in Maps. Maps, charts, aerial photos, GIS, and other map resources at UB and on the Internet.
Buffalo Public Schools. Complete listing of schools, addresses, programs, photos, and other information.
Buffalo Catholic Schools (WNY Catholic Schools website). Search for schools in the region.
Churches in Buffalo. Beautiful photographs of many (very many) churches in the Buffalo area. Search by name.
Schools of Buffalo. By the author/photographer of the Churches in Buffalo site (above). Beautiful photographs of many (very many) schools in the Buffalo area. Search by name.
Forgotten Buffalo. Great emphasis on Buffalo Neighborhoods and their history. Provides tour info and stories, etc.
History of the City of Buffalo and Erie County: with Illustrations and Biographical Sketches of Some of its Prominent Men and Pioneers, in Two Volumes. Edited by H. Perry Smith. Syracuse, NY: D. Mason & Co., Publishers, 1884. Online facsimile of the book.
Our Buffalo. Graphic map showing some of the neighborhoods.
List of Street Name Changes in Buffalo. Brief listing of old names and new names.
1894 City of Buffalo Atlas. Property maps of the city. Full-color digital version of the original maps with good resolution (may not work with all browsers).
UB Regional Institute. Resources on city development and activity.
---
Buffalo Parks, Olmsted Works and Activities
---
Other Great Buffalo Neighborhood-Related Sites
Buffalo as an Architectural Museum. Lists websites of existing buildings in Metro Buffalo, including Erie and Niagara Counties in New York State. Has many illustrations and photos.
Buffalo, New York History. Photographs, drawings, maps, articles; wide variety of topics.
Buffalo Spree magazine. Includes articles and resources on neighborhood activities, history, and culture.
Guide to Buffalo English. Partly entertaining, this page does provide a good summary of the "accent" of Buffalonians.
Erie Canal website. The Canal had a big part to play in Buffalo history and the old route is now covered beneath the city along the Niagara River.
Visit Buffalo/Niagara page. Information and data on variety of Buffalo area sights and neighborhood activities.
Tifft Nature Preserve. Just beyond the Buffalo boundaries but an important site in the effort to revive the city.
---
Buffalo and Western New York Region
Buffalo–Niagara Falls Metropolitan Area (Wikipedia). Links to data and text on towns and villages in Erie and Niagara Counties.
WNY Maps. UB Map Collection maps, charts, aerial and satellite photos, and online maps of Western New York, including Erie, Niagara, and other local counties.
---
Boston, Massachusetts
---
Albany, New York
---
Manhattan, New York