1976 Buffalo Bulls Baseball – lead nation in hitting
by Scott Hollander
University at Buffalo Libraries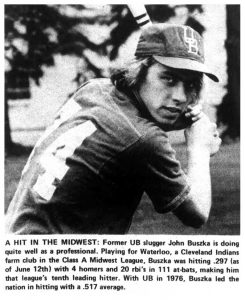 The 1976 Buffalo Bulls participated in the highest level of collegiate competition and had victories against nationally ranked teams such as Iowa, 16-2, 15-3; Michigan 6-4, 4-2; St. John's 4-1; Seton Hall 12-1; Pittsburgh 6-2,8-1; Penn State 7-6 and Princeton 5-2.  The 1976 team finished with a record of 26-15 making it to the NCAA northeastern regional playoffs.
The Bulls lead the nation in team hitting (batting .361), ahead of Southern Illinois (.355); Arizona State (.344); Eastern Kentucky (.340); Denver University (.337) and Louisville (.331).
Individually, Buffalo's John Buszka hit a blistering .517 in 1976 to lead the nation in hitting in NCAA Division I baseball.  The mark still stands as the highest single-season batting average in school history.
When he wasn't in lineup at first base or DH, Buszka pitched and had an ERA under 3.00 his last two seasons playing for coach Bill Monkarsh.
Buszka was drafted by Cleveland Indians and played three years of minor league ball in the Indians organization.  He is a member of the UB Athletic Hall of Fame and the Western New York Baseball Hall of Fame.
For more information on baseball at the University at Buffalo, visit the UB Sports History Collection website.