Revolution: Civil Rights at UB, 1960-1975
Malcolm X
April 24, 1963
Human rights activist and Black Nationalist leader, Malcolm X, served as a spokesman for the Nation of Islam during the 1950s and 1960s. A gifted, charismatic and controversial speaker, Malcom X encouraged African Americans to be proud of their heritage and to gain freedom, justice and equality "by any means necessary."
On April 24, 1963, more than 700 people filled two rooms in Norton Hall (now Squire Hall on the UB South Campus) to hear Malcolm X debate the Rev. Clarence L. Hilliard, pastor of St. Paul Baptist Church in Lackawanna, NY. Invited to the university by UB's Student Association, Malcolm X was one of the most sought-after speakers on college campuses in 1963.
During the debate, both men expressed their opinions on the civil rights movement in the education system, with Rev. Hilliard criticizing the Buffalo Board of Education for not integrating the city's schools more completely, and Malcolm X expressing his view that schools should be racially separate but equal in quality. Malcolm X said it did not make sense to combine the races into mixed schools because it sent a negative message to black students, telling them "…there is something so wonderful about the white man that they are going to become much smarter just by having one or two white pupils in their classrooms." (Buffalo Courier-Express, 25 April, 1963, p.23)
---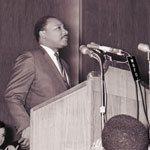 Dr. Martin Luther King, Jr.
November 9, 1967
American civil rights leader, Dr. Martin Luther King, Jr., came to Buffalo at the invitation of UB's Graduate Student Association and the UB Student Association. In his speech, titled, "The Future of Integration," Dr. King spoke to a large audience in Kleinhans Music Hall on November 9, 1967.
He addressed issues which included racial violence, the importance of education and voting to the black community, saying, "the ballot is one of the keys to the door of freedom" and that those who have no vote are powerless. He also discussed a subject of great significance to King's UB sponsors – his opposition to American involvement in the Vietnam War.
As reported in UB's student newspaper, Dr. King termed the Vietnam War a "tragic mix-up of priorities," adding, "I watch as it brings us closer to a third World War," and "strengthens the military-industrial complex" at the expense of the poor.
During his hour-long speech, Dr. King condemned the actions of the political establishment and praised the outcomes of several recent U.S. mayoral elections in which minority individuals were victorious. He also stressed the need for racial cooperation between black and white communities in order to achieve real progress. The speech marked Dr. King's final appearance in Buffalo before his assassination on April 4, 1968.
---
Cesar Chavez
October 27, 1969
Cesar Chavez emerged as a leading voice for migrant farm workers during the civil rights era. In 1962, he organized agricultural workers into the National Farm Workers Association, which later became the United Farm Workers (UFW), an organization which utilized nonviolent pickets, strike, and boycotts to protest the harsh conditions farm laborers endured.
Mike Rivera, a member of the Central Social Mexican Club of Lackawanna, invited Chavez to UB in October 1969 in conjunction with the university's Hispanic Student Organization. The visit was part of a national tour during which Chavez emphasized the need to find a common thread between the working conditions of farm workers and issues facing university students. In this way, Chavez sought to gain support for his cause by raising awareness of the conditions affecting agricultural workers in the U.S. and empowering youth to act on social issues.
Addressing the intersection between race and the exploitation of farmworkers in America, Chavez expressed the belief that big agribusiness and the government treated farmworkers as "farm implements." Arguing for policies that would enhance working conditions and wages, Chavez advocated for farm workers to have a voice in their work, wages, hours and self-determination, drawing a parallel with the plight of university students who did not have a strong voice in the academic world.
---
Angela Davis
November 30, 1972
Thunderous applause and a volley of camera flashes greeted political activist, scholar and author, Angela Davis, on November 30, 1972. Accepting an invitation from the UB Student Association Speaker's Bureau and the university's Black Student Union, Davis delivered an impassioned speech to a capacity crowd in Clark Hall on UB's South Campus.
She began by thanking those in Buffalo who had protested her recent imprisonment, and then addressed a wide range of topics, including American leadership, the wealth gap, and the plight of political prisoners. During her speech, Davis contrasted the Kent State massacre with the shooting of two African American students at Southern University in Louisiana, challenging her audience to question the status of racism in the United States, and making a plea for justice and unity throughout the country.
She spoke of the ways in which racism had been integrated into American politics, challenging each and every student in her audience to work toward ending racism and injustice. Sharing her thoughts on the Vietnam War and the concept of freedom, Davis said, "Regardless of the most sophisticated technology of death and devastation, a people's desire for liberation can prevail." In closing, she reminded those in attendance that it is the responsibility of the American people to fight for justice because, ultimately, hope lies in unity.
---
Shirley Chisholm
April 5, 1973
Shirley Chisholm, the first African American woman elected to the U.S. Congress, and the first woman and African American to seek a major political party's presidential nomination (1972), visited the University at Buffalo several times. During her initial visit in June 1972, Chisholm discussed her candidacy for president, describing herself as "a catalyst for change" and concluding her speech by arguing for a "revolution in politics."
On April 5, 1973, Chisholm returned to UB, focusing her attention on the effects of President Nixon's economic policies on the poor, African Americans, and students. She implored all Americans to "stick together for mutual survival" because "although we may have all come over on different ships, all of us had better understand that we're all in the same boat right now." Chisholm described Nixon's administration as "nothing more than a troublesome detour off the main highway," and expressed confidence that better times were quickly approaching.
A frequent theme in Shirley Chisholm's speeches to UB audiences was the importance of challenging the status quo, just as she did as the first black woman to run for president. Anyone attempting to be "a catalyst for change," said Chisholm, must have "the audacity, courage and determination to shake things up within the system."
---
Bayard Rustin
October 27, 1961
A few years before Bayard Rustin went on to plan and organize the influential 1963 March on Washington for Jobs and Freedom, he made an appearance at UB in order to speak on "Civil Rights and Non-Violent Mass Action." Rustin, who was the executive secretary of the War Resisters League and a co-founder of the Congress of Racial Equality (CORE), had his visit sponsored by UB's Student Christian Association and Student Senate Committee on Segregation. Rustin served as an influential behind-the-scenes advisor to Martin Luther King, Jr. and the Southern Christian Leadership Conference (SCLC) as well as an organizer of many nonviolent civil rights actions. He was a gay man who, later in life, became an outspoken defender of gay rights.
In his 1961 speech at UB, he defended the significance of CORE, of sit-ins and freedom rides, and of the historical strategy of political nonviolence. "Nonviolence is important to us," he explained, "for it is the only method capable of challenging and destroying an institution while simultaneously creating a better one."
---
Gloria Steinem & Jane Galvin Lewis
December 5, 1974
On the same day students were rallying for charter recognition of UB's Women's Studies College (WSC), touring feminist co-speakers Gloria Steinem and Jane Galvin Lewis visited to discuss "Sexism, Racism, Black Feminism" to a packed audience of over 2,000 people in UB's Clark Gym (the "heart of jockocracy," according to Steinem). Steinem, editor of Ms. Magazine, and Lewis, founder of the National Black Feminist Organization, focused their talk on the interrelated oppressions of sexism and racism in labor and protest history: "We have come to believe that they must and can only be fought together," Steinem argued.
Lewis touched on the Watergate scandal--which had led to President Nixon's resignation several months prior—in order to highlight the lack of black or female involvement. "We were not there, and neither were women," she said. "The sad part is that we have never [been] allowed to participate that fully to be that corrupt."
"After their presentations," according to the UB Reporter, "both women listened sympathetically to supporters of Women's Studies College" and offered suggestions on how to resolve their conditional charter under Title IX, an educational amendment passed two years before which prohibits discrimination on the basis of sex.