Basketball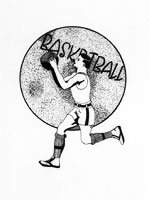 Although the first official U.B. basketball season is 1915-1916 when Coach Art Powell took over, there were several earlier successful teams.
The first newspaper records for U.B. basketball are from December 1905 when U.B. lost it's very first home game to Cornell University 27-23. The following year the team beat Cornell as well as Niagara and Dickinson on its way to a six win, two loss season.
The program gained national recognition under Coach Powell. Powell had a 198-190 record, including 28 straight wins and 45-5 for three seasons (1929-32), with triumphs over Pitt, West Virginia, Syracuse and Yale. Powell's 1930-31 team was 15-0, the best mark in UB history.
---
1905-1915  |  1915-1920  |  1920-1929  |  1930-1939  |  1940-1949  |  1950-1959  |  1960-1969  |  1970-1979  |  1980-1989  |  1990-1999
2000-2009  |  2010-2019 | 2020-Present
---
Early Years
1905 – 1906 – First Season – On December 1, 1905, the first U.B. basketball team played Cornell University at Convention Hall in Buffalo with Cornell winning by a score of 27 to 23. A crowd of about 400 witnessed the contest including many members of the local Cornell Alumni Association. Buffalo also plays Niagara University for the first time but a scheduled match against Canisius College was canceled.
Coach: Dreher
FINAL RECORD: 1-3
1906 – 1907 – An Odd Ending – Buffalo beats Cornell University but almost the entire team fails to show up for a scheduled game against Niagara University in Niagara Falls tainting an otherwise successful campaign.
MANAGER: J. Edward Cooney
Coach: Alfred Heerdt
FINAL RECORD: 6-2
1912 – 1913 – A team is organized and plays a limited schedule that included Canisius College.
1913 – 1914 – Baby Steps – With Dr. Froeber engaged as Coach and Manager Dodge of the Dental School arranging games with the likes of Cornell University and Canisius College, the team makes progress in returning athletics to the university.
MANAGER: Dodge
Coach: Dr. Edward G. Froeber, D.D.S.
FINAL RECORD: 2-4 (?)
1914 – 1915 – With Manager Mike Maher arranging games against Cornell, Canisius & Niagara, the team struggles to find any success.
MANAGER: Maher
FINAL RECORD: 0-5(?)
---
First Official Season
1915 – 1916 – Basketball Officially Begins – Art Powell, who starred in basketball, baseball and football at Syracuse University in the early 1900s and served as the head Coach of the Indiana Hoosiers men's basketball for one year (1913), takes over as the head Coach of the University of Buffalo basketball team in December of 1915 as U.B. basketball officially begins.MANAGER: Tom Atkins
Coach: Art Powell
FINAL RECORD: 7-4
1916 – 1917 – The Bulls upgrade their schedule to include such major teams as Yale, Michigan State, Pittsburgh and Carnegie Tech. Season highlights included a 34-29 victory over Pittsburgh in Buffalo.
Coach: Art Powell
FINAL RECORD: 6-8
1917 – 1918 – Despite wartime conditions and the loss of several players to the military, Buffalo Coach Art Powell leads the 1917-1918 Buffalo basketball team to a respectable record against quality opponents.
Coach: Art Powell
FINAL RECORD: 6-2
1918 – 1919
Coach: Art Powell
FINAL RECORD: 8-5
1919 – 1920
Coach: Art Powell
FINAL RECORD: 9-1
---
1920
1920 – 1921
Coach: Art Powell
FINAL RECORD: 12-6
1921 – 1922
Coach: Art Powell
FINAL RECORD: 5-7
1922 – 1923
Coach: Art Powell
FINAL RECORD: 7-5
1923 – 1924
Coach: Art Powell
FINAL RECORD: 7-6
1924 – 1925
Coach: Art Powell
FINAL RECORD: 7-6
1925 – 1926
Coach: Art Powell
FINAL RECORD: 11-6
1926 – 1927
Coach: Art Powell
FINAL RECORD: 11-4
1927 – 1928
Coach: Art Powell
FINAL RECORD: 8-8
1928 – 1929
Coach: Art Powell
FINAL RECORD: 7-11
1929 – 1930
Coach: Art Powell
FINAL RECORD: 15-1
---
1930
1930 – 1931 – Perfect Season – Art Powell leads the team through a 15 win, 0 loss campaign, the only undefeated season in U.B. history.
Coach: Art Powell
FINAL RECORD: 15-0
1931 – 1932
Coach: Art Powell
FINAL RECORD: 15-4
1932 – 1933
Coach: Art Powell
FINAL RECORD: 10-9
1933 – 1934
Coach: Art Powell
FINAL RECORD: 5-10
1934 – 1935 – Art Powell suffers through his worse season to date.
Coach: Art Powell
FINAL RECORD: 3-9
1935 – 1936
Coach: Art Powell
FINAL RECORD: 0-13
1936 – 1937
Coach: Art Powell
FINAL RECORD: 4-10
1937 – 1938
Coach: Art Powell
FINAL RECORD: 4-9
1938 – 1939
Coach: Art Powell
FINAL RECORD: 2-12
1939 – 1940
Coach: Art Powell
FINAL RECORD: 1-10
---
1940
1940 – 1941
Coach: Art Powell
FINAL RECORD: 4-9
1941 – 1942
Coach: Art Powell
FINAL RECORD: 2-8
1942 – 1943
Coach: Art Powell
FINAL RECORD: 7-6
1943 – 1944
No Team
1944 – 1945
No Team
1945 – 1946
Coach: Robert Harrington
FINAL RECORD: 5-10
1946 – 1947
Coach: Malcolm S. Eiken
FINAL RECORD: 12-5
1947 – 1948
Coach: Malcolm S. Eiken
FINAL RECORD: 13-8
1948 – 1949 – A 20 game schedule included four games at the Buffalo Memorial Auditorium with a marque match against the University of Georgia Bulldogs.
Coach: Malcolm S. Eiken
FINAL RECORD: 11-9
1949 – 1950
Coach: Malcolm S. Eiken
FINAL RECORD: 15-10
---
1950
1950 – 1951
Coach: Malcolm S. Eiken
FINAL RECORD: 13-8
1951 – 1952
Coach: Malcolm S. Eiken
FINAL RECORD: 18-6
1952 – 1953
Coach: Malcolm S. Eiken
FINAL RECORD: 10-9
1953 – 1954
Coach: Malcolm S. Eiken
FINAL RECORD: 15-8
1954 – 1955 – The team won 16 games as Jim Horne ends his college career with 11 school scoring records, including most points in a game (41) and career (1,833).
Coach: Malcolm S. Eiken
FINAL RECORD: 16-6
1955 – 1956 – Mal Eiken's 10th year and last season as head Coach of the basketball Bulls ending his UB career at 140 won and 73 lost for a .657 winning percentage.
Coach: Malcolm S. Eiken
FINAL RECORD: 17-3
1956 – 1957
Coach: Len T. Serfustini
FINAL RECORD: 18-7
1957 – 1958
Coach: Len T. Serfustini
FINAL RECORD: 17-5
1958 – 1959
Coach: Len T. Serfustini
FINAL RECORD: 16-7
1959 – 1960
Coach: Len T. Serfustini
FINAL RECORD: 15-6
---
1960
1960 – 1961
Coach: Len T. Serfustini
FINAL RECORD: 18-5
1961 – 1962
Coach: Len T. Serfustini
FINAL RECORD: 14-7
1962 – 1963
Coach: Len T. Serfustini
FINAL RECORD: 16-7
1963 – 1964
Coach: Len T. Serfustini
FINAL RECORD: 14-8
1964 – 1965 – The team won 19 games and was awarded a berth in the 1965 NCAA College Division Tournament in the Mid-East Regional in Akron, Ohio.
Coach: Len T. Serfustini
FINAL RECORD: 19-3
1965 – 1966 – The Bulls upgraded their schedule to include 3 teams with "major" classification in basketball: Syracuse, Kent State and Penn State.
Coach: Len T. Serfustini
FINAL RECORD: 14-8
1966 – 1967
Coach: Len T. Serfustini
FINAL RECORD: 9-11
1967 – 1968
Coach: Len T. Serfustini
FINAL RECORD: 11-10
1968 – 1969
Coach: Len T. Serfustini
FINAL RECORD: 12-9
1969 – 1970
Coach: Len T. Serfustini
FINAL RECORD: 11-11
---
1970
1970 – 1971– New coach Ed Muto leads the team through a 9 win, 13 loss campaign.
Coach: Edwin D. Muto
FINAL RECORD: 9-13
1971 – 1972
Coach: Edwin D. Muto
FINAL RECORD: 12-12
1972 – 1973
Coach: Edwin D. Muto
FINAL RECORD: 16-8
1973 – 1974
Coach: Leo Richardson
FINAL RECORD: 5-20
1974 – 1975
Coach: Leo Richardson
FINAL RECORD: 8-17
1975 – 1976
Coach: Leo Richardson
FINAL RECORD: 10-16
1976 – 1977
Coach: Leo Richardson
FINAL RECORD: 5-21
1977 – 1978
Coach: V. William Hughes
FINAL RECORD: 6-18
1978 – 1979
Coach: V. William Hughes
FINAL RECORD: 7-18
1979 – 1980
Coach: V. William Hughes
FINAL RECORD: 17-10
---
1980
1980 – 1981
Coach: V. William Hughes
FINAL RECORD: 12-15
1981 – 1982
Coach: V. William Hughes
FINAL RECORD: 13-17
1982 – 1983
Coach: Kenneth Pope
FINAL RECORD: 12-15
1983 – 1984
Coach: Daniel J. Bazzani
FINAL RECORD: 14-13
1984 – 1985
Coach: Daniel J. Bazzani
FINAL RECORD: 5-19
1985 – 1986
Coach: Daniel J. Bazzani
FINAL RECORD: 14-11
1986 – 1987
Coach: Daniel J. Bazzani
FINAL RECORD: 15-10
1987 – 1988
Coach: Daniel J. Bazzani
FINAL RECORD: 14-13
1988 – 1989
Coach: Daniel J. Bazzani
FINAL RECORD: 16-14
1989 – 1990
Coach: Daniel J. Bazzani
FINAL RECORD: 14-13
---
1990
1990 – 1991
Coach: Daniel J. Bazzani
FINAL RECORD: 13-14
1991 – 1992
Coach: Daniel J. Bazzani
FINAL RECORD: 2-26
1992 – 1993
Coach: Daniel J. Bazzani
FINAL RECORD: 5-22
1993 – 1994
Coach: Tim Cohane
FINAL RECORD: 10-18
1994 – 1995
Coach: Tim Cohane
FINAL RECORD: 18-10
1995 – 1996
Coach: Tim Cohane
FINAL RECORD: 13-14
1996 – 1997
Coach: Tim Cohane
FINAL RECORD: 17-11
1997 – 1998
Coach: Tim Cohane
FINAL RECORD: 15-13
1998 – 1999
Coach: Tim Cohane
FINAL RECORD: 5-24
1999 – 2000
Coach: Tim Cohane/Reggie Witherspoon
FINAL RECORD: 5-23
---
2000
2000 – 2001
Coach: Reggie Witherspoon
FINAL RECORD: 4-24
2001 – 2002
Coach: Reggie Witherspoon
FINAL RECORD: 12-18
2002 – 2003
Coach: Reggie Witherspoon
FINAL RECORD: 5-23
2003 – 2004
Coach: Reggie Witherspoon
FINAL RECORD: 17-12
2004 – 2005
Coach: Reggie Witherspoon
FINAL RECORD: 23-10
2005 – 2006
Coach: Reggie Witherspoon
FINAL RECORD: 19-13
2006 – 2007
Coach: Reggie Witherspoon
FINAL RECORD: 12-19
2007 – 2008
Coach: Reggie Witherspoon
FINAL RECORD: 10-20
2008 – 2009
Coach: Reggie Witherspoon
FINAL RECORD: 21-12
2009 – 2010
Coach: Reggie Witherspoon
FINAL RECORD: 18-12
---
2010
2010 – 2011
Coach: Reggie Witherspoon
FINAL RECORD: 20-14
2011 – 2012
Coach: Reggie Witherspoon
FINAL RECORD: 20-11
2012 – 2013
Coach: Reggie Witherspoon
FINAL RECORD: 14–20
2013 – 2014
Coach: Bobby Hurley
FINAL RECORD: 19-10
2014 – 2015
Coach: Bobby Hurley
FINAL RECORD: 23-10
2015 – 2016
Coach: Bobby Hurley
FINAL RECORD: 20-15
2016 – 2017
Coach: Nate Oats
FINAL RECORD: 17-15
2017 – 2018
Coach: Nate Oats
FINAL RECORD: 27-9
2018 – 2019
Coach: Nate Oats
FINAL RECORD: 32-4
2019 – 2020
Coach: Jim Whitesell
FINAL RECORD: 20-12
2020
2020 – 2021
Coach: Jim Whitesell
FINAL RECORD: 16-9